The following is a list of episodes in the Disney XD Original Series I Didn't Do It.
Here are the following episodes below: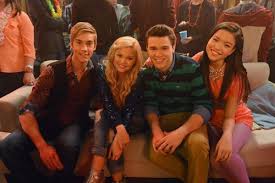 Episodes
Series overview
Season
Episodes
Originally aired (U.S. dates)
Season premiere
Season finale
1
20
January 17, 2014
December 7, 2014
2
19
February 15, 2015
October 16, 2015(Last Episode)
Episode list
"Season One"
Episode#
PC#
Original airdate
Episode
Description
1
101
January 17, 2014
Pilot
In This Season 1 Openning:
Note#1: Lindy and Logan explain to their parents why their home is covered in foam, how a goat got into their living room and what happened to Mrs. Klasby, their 91-year-old babysitter.
Note#2: Lindy and Logan try to explain to their parents what happened to their babysitter, why a goat is in their living room, the house is covered by foam and pizza is falling from the ceiling.
(Note#1 is from "zap2it" & Note#2 is from anther Wikia)
2
102
January 26, 2014
Fireman Freddy's Spaghetti Station
Note#1: The close-knit pals find themselves at their favorite childhood party station covered in spaghetti sauce.
Note#2: Logan, Lindy, Jasmine, Delia and Garrett get covered in spaghetti sauce surrounded by fourth-graders.
(Note#1 is from "zap2it" & Note#2 is from anther Wikia)
3
103
February 9, 2014
The New Guy
The five pals think they've made a mistake in befriending the new guy in school so they search for ways to break up with him.
4
104
February 16, 2014
Dear High School Self
Lindy's brother and their friends are sent on a search about a letter Lindy wrote in third grade.
5
105
March 9, 2014
If It Tastes Like a Brussels Sprout
Jasmine and Logan invent a spray that makes vegetables taste even more delicious.
6
106
March 16, 2014
Lindylicious
When Lindy's smoothie creation makes it to the Rumblejuice menu, she sets out to make her drink a bigger splash in Chicago; Garrett goes undercover to solve a popcorn conspiracy at their neighborhood movie theater.
7
107
April 6 2014
Snow Problem
Logan finds a ski chalet for a low rate; the five friends realize why the cabin was so cheap.
8
108
April 13 2014
Dance Fever
Lindy tries to escape her nemesis, Sherri, and her goal of perfect attendance.
Special Guest star: Peyton List as Sherri
9
109
May 4 2014
Now Museum, Now You Don't
Logan and Lindy's sibling rivalry gets heated when they both are hired at the Chicago Museum of Art. Meanwhile, Delia becomes convinced she is a descendant of Nefertiti, and gets Jasmine and Garrett to help her collect a DNA sample from the mummy exhibit.
10
110
June 22 2014
In The Doghouse With The White House
During a school trip to Washington, D.C., the first dog is stolen from the White House.
11
111
June 29 2014
The Phone Challenge!
Logan panics when his cell phone dies; his friends all give up their phones in solidarity.
12
112
July 13 2014
Twin It to Win It
Lindy and Logan participate in a twin telepathy study; Logan and Garrett try to fix the results.
13
113
July 27 2014
Earth Boys Are Icky
Delia wants an alien boyfriend; Logan is dating the vice principal's daughter.
14
114
August 10 2014
Lindy Nose Best
Lindy promises not to interfere with her friends' business and things quickly escalate.
15
115
August 24 2014
Ball or Nothing
Lindy and Logan are on a mission to replace their father's football.
16
116
September 21 2014
Logan's Run
Logan learns that his friends think he runs awkwardly; Delia gets Brenda fired from Rumble Juice.
17
117
September 28 2014
Bad News
Logan steps in as co-anchor to help liven up Jasmine's morning news delivery.
18
118
October 05 2014
Next of Pumpkin
Delia has been growing a pumpkin for six months with the hope of winning the largest pumpkin award.
19
119
November 02 2014
Bicycle Thief
Garrett's bike is stolen when Lindy takes it for a ride; she tries to track it down.
20
120
December 7 2014
Merry Miss Sis
Logan wishes he never had a sister after their sibling rivalry reaches an all-time high during a holiday party, and an angel grants his wish. Logan then sees how different his life would be without Lindy.
"Season Two"
Disney Channel has ordered a second season of its comedy series starring Olivia Holt (Kickin' It), Austin North, Piper Curda, Peyton Clark, and Sarah Gilman. I Didn't Do It revolves around the close-knit group of teens in the midst of a wild occurrence – something so absurd that it has them trying to explain away the craziness. Through flashbacks they recount the various and sometimes random moments leading up to their predicament. Since premiering in January, I Didn't Do It has tied as Disney Channel's No. 1 series among tweens 9-14. Series was created by Tod Himmel (90210) and Josh Silverstein (So Random!) and is produced by It's a Laugh Productions.
Season 2 was officially announced on July 3rd 2014.
(Note: This Season, The episode# for this list will be 21/1. Is mark as series# & episodes# together)
Series#/Episode#
PC#
Original airdate
Episode
Description
21/1
201
February 15 2015
Slumber Partay!
In This Season 2 Openning: Lindy's slumber party plans land her, Delia and Jasmine into legal trouble.
22/2
202
March 1 2015
The Not-So-Secret Lives of Mosquitoes & Muskrats
When news breaks that Lindy is dating a student from a rival school, she becomes a social outcast.
23/3
203
March 8 2015
Lindy Goes to the Dogs!
Lindy has a hard time letting her foster dog go to his new family; Delia and Jasmine compete.
24/4
204
March 15 2015
Lindy & Logan Get Psyched
Lindy and Logan are Delia's first patients when she takes an "Intro to Psychology" course.
25/5
205
March 22 2015
Dog Date Afternoon
Jasmine volunteers at the Senior Center and makes some friends; Delia borrows Lindy's foster dog.
26/6
206
March 29 2015
Logan Finds Out!
Logan is dumped by his girlfriend; Lindy, Garrett and Delia find out that Jasmine likes Logan.
27/7
207
April 08 2015
Food Fight
Jasmine's new babysitting job is complicated by her nine-year-old charge.
28/8
208
April 19 2015
Stevie Likes Lindy
A rich kid named Stevie falls for Lindy and tries to buy her heart; Garrett's hiding something.
19/9
209
May 31 2015
Falling for... Who?
Logan realizes that he has feelings for Jasmine at the school's fall dance.
20/10
210
June 7 2015
Lindy and Logan's Brrrrthday!
Jasmine, Garrett and Delia want to make Lindy and Logan's birthday extra special; a snow storm threatens their party plans.
21/11
211
June 21 2015
Cheer Up Girls
Lindy, Jasmine and Delia form a rogue cheerleading squad; Logan has a new gig as a superhero for kids' birthday parties.
22/12
212
July 10 2015
(New Day: Friday)
Lindy in the Middle
Lindy plays matchmaker for Garrett and the new girl in school; it turns out that the new girl is more awkward than Garrett.

(As Of July 2015: "IDDI" have move to a new Day. It Now FRIDAY....)
23/13
213
July 24 2015
Elementary, My Dear Watson
Betty's foghorn from her time in the Coast Guard is stolen; Logan tries to solve the crime.
"2nd Summary": Betty's foghorn from her time in the Coast Guard is stolen from Rumble Juice; Logan leads the investigation and everyone is a suspect.
24/14
214
August 7 2015
Lindy Breaks Garrett
Lindy wants a girls day at the spa but Delia and Jasmine have a double date planned; she convinces Logan and Garrett to also spend the day at the spa.
25/15
215
August 14 2015
Doggie Daddy
Lindy's latest foster dog, Lucky, warms up to Logan and the twins compete for the dog's affections; Jasmine accidentally sells Garrett's vintage action figure.
26/16
216
September 11 2015
Drum Beats, Heart Beats
Jasmine starts spending time with Logan during drum lessons and realizes that she has feelings for him.
27/17
217
September 18 2015
The Doctor Is In
Garrett starts work at a fast food restaurant; Lindy crushes on Dr. Gabriel, a veterinarian, and is upset that Logan hangs out with him.

Guest star: Bradley Steven Perry as Dr. Scott Gabriel
28/18
218
October 2 2015
Bite Club
Logan and Delia go to New York for a presentation as Marie Antionette and Albert Einstein and run into familiar faces at New York's biggest Halloween party; Betty and Garrett create a major candy scam while trick-or-treating.
29/19
219
October 16 2015
The Rescuers
Jasmine figures out her feelings for Logan; Lindy and her friends try to book a musical act for the benefit concert they're throwing to save an animal-rescue shelter.

(This is the finale episode of I Didn't Do It)
xx/xx
xxx
No Date
"Twitter Note"
Note from twitter dated on 1:27 PM - 21 May 2015 at "IDDI END Episode 19"(Tweet Post)


"I Hope They Think On Continue On With Season 3 But We Will Never Know"